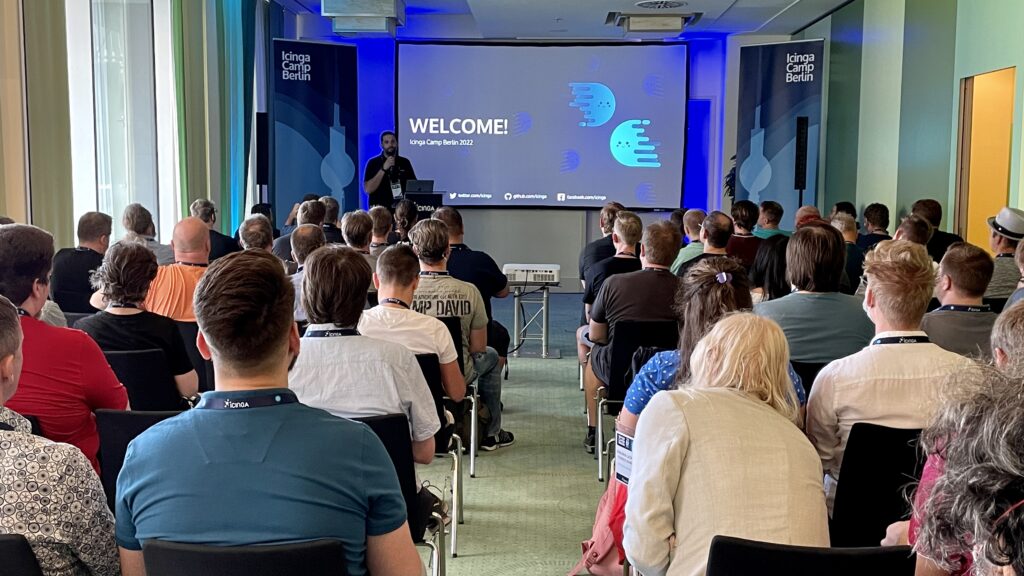 Das erste Icinga Camp nach 2019 fand nun fast 3 Jahre später statt. NETWAYS hat als Sponsor und Hilfe in der Organisation zusammen mit der Icinga das Event zusammen auf die Beine gestellt und zu einem vollen Erfolg gemacht.
Es wurde der aktuelle Stand der Dinge geteilt, neue Features vorgestellt und Perspektiven und Erfolge von Nutzern geteilt.
Für alle, die es nicht zur Veranstaltung schafften, haben wir nun alle Vorträge auf YouTube online gestellt. Die Videos sind im folgenden in den Überschriften der jeweiligen Vorträge verlinkt.
Wir begannen die Veranstaltung um 09:00 Uhr in Berlin mit frischem Kaffee und vielen Möglichkeiten, die anderen Besucher und das Team Icinga zu treffen. Es war eine großartige Gelegenheit, alte Freunde zu treffen und neue Gesichter in der Community willkommen zu heißen. Nach einer herzlichen Begrüßung durch den CEO Bernd, begannen wir direkt mit unserem ersten Vortrag:
In den letzten Monaten gab es verstärkt Bemühungen, mit Icinga-Nutzern zusammenzuarbeiten, um Customer Stories zu erstellen. Diese erklären, wie die Leute Icinga nutzen, was ihre besonderen Herausforderungen in deren Monitoring waren und wie Icinga geholfen hat, Probleme zu lösen. Für mehr Informationen, neben dem Überblick von Blerim, gibt es die vollständigen Stories auf der Icinga Website. 
Der nächste Vortrag war das diesjährige Update von Icinga DB – und dieses Mal durfte Eric über die nun veröffentlichte Version vorstellen! Eric hat darüber gesprochen, wie Icinga DB funktioniert, was sie für Eure Monitoring Umgebung tun kann und welchen Herausforderungen wir während der Entwicklung gegenüberstanden. Darüber hinaus eröffnet Icinga DB neue Möglichkeiten, die mit IDO nicht möglich waren – also testet unsere Icinga DB gerne selbst!
Nach den Eröffnungsvorträgen von Team Icinga gab es in der ersten Kaffeepause einiges zu erzählen. Es wurde viel über Erfahrungen mit Icinga DB geplaudert, und Ideen ausgetauscht, was als nächstes in Angriff genommen werden soll. Es war eine schöne Pause, bevor es zurück in den Raum ging. Die Bühne wurde dann der Icinga-Community überlassen:
Der Autor des Vortrags war leider nicht in der Lage, für uns zu sprechen, aber zum Glück konnte sein Kollege Dave kurzfristig einspringen. In diesem Vortrag hörten wir über die Erfahrungen von der australischen Firma Sol1. Diese haben durch ihre jahrelange Arbeit mit Icinga in großen Umgebungen einiges an Erfahrung sammeln können. Sie erzählten von den Vorteilen und möglichen Gefahren, die bei der Verwendung einer externen source of truth zur Konfiguration der Überwachung zu beachten sind, und welche Lektionen sie auf diesem Weg gelernt haben.
Die Plugins der Linuxfabrik wurden bereits Anfang des Jahres auf dem Icinga blog vorgestellt. In seinem Vortrag geht Markus ein wenig mehr ins Detail über die Hintergründe der Plugin-Kollektion und zeigt uns, wie sie unter der Haube funktioniert.
Die Mittagspause bot eine weitere Gelegenheit, bei einem leckeren Buffet Leute zu treffen und sich über alle Dinge rund um Icinga zu unterhalten. Nach anderthalb Stunden geselligen Beisammenseins kehrten wir zu unseren Plätzen zurück, um uns weitere Vorträge über interessante Tools anhören zu können:
Die zweite Hälfte des Tages wurde von Thomas eingeleitet, der uns zeigte, was er ein paar Stunden zuvor veröffentlicht hatte: Ein neues Icinga-Modul, das sich in den Icinga Director integriert und eine Art Git-ähnliche Versionskontrolle für die Konfiguration bietet. Mit verschiedenen Director Branches kann man nun mehrere Zustände der Konfiguration haben, die zur gleichen Zeit erstellt, ausgetauscht und reviewed werden können. Lies hier den vollständigen Blogpost über das Release von Icinga Director Branches.
Als Nächstes folgte der zweite Auftritt von Dave an diesem Tag, dieses Mal mit seinem originellen Vortrag über Meerkat. Dashboarding ist ein wichtiger Bestandteil, um einen Überblick über Ihre Systeme zu erhalten. Das Open-Source-Tool kann bei der Visualisierung von Daten mit vielen praktischen Funktionen, die während der Präsentation vorgestellt wurden, sehr helfen.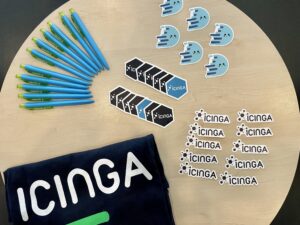 Kaffeepause Nummer zwei signalisierte nun, dass die letzten Vorträge des Tages anstanden. Wir holten uns ein paar Snacks und Merch und gingen dann zurück in den Konferenzraum.
Wir versetzten uns in die Perspektive eines Service-Desk-Mitarbeitenden und erfuhren, wie man den Leuten, die Icinga benutzen, das Leben mit Guacamole (nicht der auf Avocado basierenden) erleichtern kann. Ceclila zeigte uns, wie die Integration von Remote-Desktop-Tools beim Monitoring helfen kann.
Der letzte Vortrag des Tages war etwas weniger technisch als die vorangegangenen. In meinem Vortrag teilte ich Erfahrungen, die wir bei Icinga mit der Durchführung von Umfragen gesammelt haben. Wie man gute Fragen stellt und woran man denken muss, wenn man Daten sammelt.
Damit war das Icinga Camp bereits am Ende seines offiziellen Programms angelangt. Während einige von uns die Heimreise antraten, blieben andere noch für ein weiteres leckeres Essen und etwas Gesellschaft in der Stadt.
Alles in allem bin ich sehr froh, Teil des diesjährigen Icinga Camps in Berlin gewesen zu sein, und ich freue mich darauf, Euch alle bei der nächsten Veranstaltung wieder zu treffen!
Vielen Dank an Alle: die sich mit einem Talk eingebracht haben, das Orga Team und natürlich auch Alle, die das Camp besucht haben! Denn ohne Euch wäre das alles nicht möglich gewesen.
Vielen Dank und bis zum nächsten Mal!
Feu Mourek
Developer Advocate
---
Feu verbrachte seine Kindheit im schönen Steigerwald, bevor es sich aufmachte die Welt zu Erkunden. Seit September 2016 unterstützt es Icinga zunächst als Developer und seit 2020 als Developer Advocate, und NETWAYS als Git und GitLab Trainer. Seine Freizeit verbringt es hauptsächlich damit Video-, und Pen and Paper Rollenspiele zu spielen, sich Häuser zu designen (die es sich nie leisten können wird) oder ganz lässig mit seinem Cabrio durch die Gegend zu düsen.